Getting an antique gold wall clock happens to be a very sensitive process, as there are plenty of scams associated with the purchase process. You have to consider quite a few factors while buying these old clocks to hang on your wall space. Keep in mind that the value of an old style clock is influenced by a number of important factors, and you must know about the same before making a purchase.
Age
First, you have to consider how old your wall clock is. Clocks from an ancient era, and particularly those created for the commemoration of particular events, are more valuable than more recent or ordinary clocks. If you wish to purchase an antique gold wall clock, you must be ready to pay a high price that is commensurate to the historical worth of the object.
Manufacturer / Brand
It is another important factor that you should take into account. Such kinds of clocks always come with the name or the signature of the clock manufacturer. While checking the clock that you buy, ensure that you compare its signature to some other genuine clock from the same brand in order to get a better understanding. In case the seller is looking for a higher price, it is better that you get it assessed by an expert.
Source
The source that you are buying the clock from is another important factor that you should take into account. Always work with people who are reliable for you, and who are concerned about maintaining their market reputation. In case you are buying from a seller, search about the person online. If you are planning to deal with some auction house, it is better that you contact some experts and find out whether or not they sell genuine clocks. Also check the warranty that the seller offers. Never accept his word for a guarantee. Everything should be put on paper, which is important for expensive gold wall clock (homerises.com) pieces for which you intend to pay a lot of money.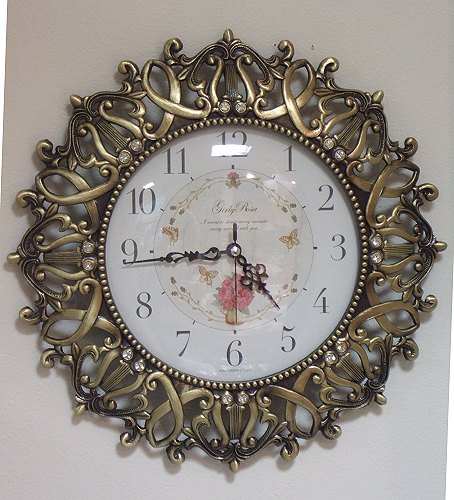 Condition
The clock's condition is another important factor that you should consider. The market comprises of various antique wall clocks having replaced glass or replaced mechanism. It is possible to sell these at a significantly less cost. Do not let the external finish of an antique wall clocks fool you. Ensure that everything is original. Otherwise, ask the seller to sell the clock to you at a discounted price. At times, fraud sellers might take an old clock mechanism and place it within the casing of some other clock. Ensure that you are only purchasing genuine antique gold wall clock pieces.
Resale value
Life is uncertain and even if you do not really want to part with your antique gold wall clock piece, financial hardships could compel you to part with it. Thus, you should check whether the clock comes with enough intricate details, decorations and heritage worth to have a high enough resale value. This will ensure that you can get the best bang for your bucks.